Author:
K.A. Tucker
Publication Date:
October 7, 2014
Publisher:
Atria Books
Format:
E-ARC
Pages:
368 Pages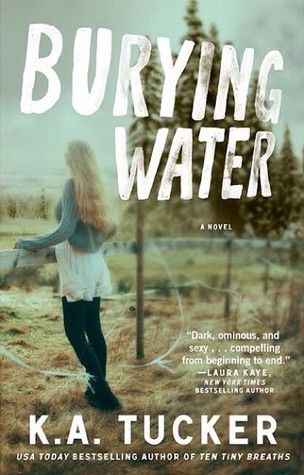 Description
The top-selling, beloved indie author of
Ten Tiny Breaths
returns with a new romance about a young woman who loses her memory—and the man who knows that the only way to protect her is to stay away.
Left for dead in the fields of rural Oregon, a young woman defies all odds and survives—but she awakens with no idea who she is, or what happened to her. Refusing to answer to "Jane Doe" for another day, the woman renames herself "Water" for the tiny, hidden marking on her body—the only clue to her past. Taken in by old Ginny Fitzgerald, a crotchety but kind lady living on a nearby horse farm, Water slowly begins building a new life. But as she attempts to piece together the fleeting slivers of her memory, more questions emerge: Who is the next-door neighbor, quietly toiling under the hood of his Barracuda? Why won't Ginny let him step foot on her property? And why does Water feel she recognizes him?
Twenty-four-year-old Jesse Welles doesn't know how long it will be before Water gets her memory back. For her sake, Jesse hopes the answer is never. He knows that she'll stay so much safer—and happier—that way. And that's why, as hard as it is, he needs to keep his distance. Because getting too close could flood her with realities better left buried.
The trouble is, water always seems to find its way to the surface.
The Why:
Hooking me in with memory loss with a girl who doesn't know anything, even her name. The way this story was written; it was amazing as it switched between past and present while still hooking me in with a cohesive story.


Characters:
Water: Waking up, she doesn't remember anything about her life even her name. She feels alone and confused. Her doctor Meredith and her cop husband, Gabe who's been working on her case promises that it takes time for her to remember. Soon she starts her new life in the small town that Meredith, her husband and two kids, Amber and Jesse live in. She moves in with Ginny, an eccentric older lady who she doesn't understand why to stay away from Jesse.
Jesse: He knows he has to stay away from Water, because its the right thing to do. I really liked how Tucker told Jesse's point of view from the past so that it would connect with the present which was Water's. You could really see the deep love he had for her, and the lengths he would go to get her out of the horrible situation she was in. He had patience that she would come back to him and to fall in love with him a second time.
Final Thoughts:
This will NOT be my last K.A. Tucker book. With three more books following this, I am SO excited. With a deep love etched in its pages about second chances, loss and redemption. I can't wait to read the next book in the series.
Want to buy Burying Water? Amazon
XOXO, K