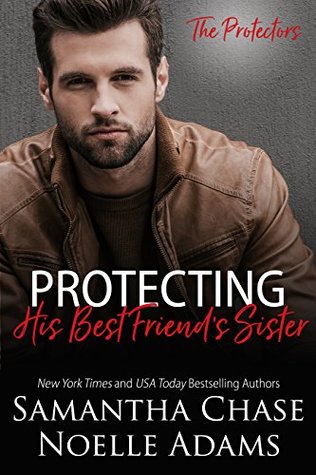 Samantha Chase & Noelle Adams
Publication Date:
August 2, 2017
Series:
The Protectors
Protecting His Best Friend's Sister was originally published as Duty Bound. It has since been expanded, revised, and re-edited
.
The only woman I want is the one I can never have.
Harper. My best friend's sister. I've wanted her since I was eighteen, but she's always been off-limits. Now I'm home after years in the Marines, and nothing has changed--except everything has. Her brother is dead, and she's on a hopeless quest for answers about his death.
And I want her just as much as ever.
Someone is trying to kill her now, and she won't let me keep her safe. I have to protect her anyway, even if she doesn't trust me, even if she hates me for it. A man protects what's precious to him, whether or not he can ever claim her for his own.
And Harper has always been precious to me.
______________
Synopsis
I've done a cover reveal & excerpt in this post here. Finally being able to read Samantha Young's work I loved it! Sometimes losing the one person you love propels you to get moving in life or go through the motions.
Loss
Being a Marine, Levi is used to being in battle, but losing his best friend is something he doesn't know how to take. He's living in a limbo and thinking about Gavin's sister Harper not be the best thing to think about. But his attraction to get over the years has increased and has gone years thinking about the what ifs. Protecting Harper is frustrating , because Harper will not back from an argument whether it gets her in danger or not. Like in this see. Poor Levi is trying to convince his self that it's for Gavin, but it's always been for her.
Love & Fire
Harper is so strong willed to the point that she got on my nerves. Like if you do this one more time, I'm going to scream. Being a journalist, she's looking into her brothers case and answering people along the way. I just wanted to shake her a bit and tell her what right in front of her. She and Levi balanced each other out. Where she was being unreliable, he steadied her. They were both SO stubborn, it made for a a lot of missed opportunities, but I liked the overall romance.
Final Rating:
3.5 STUBBORN STARS
Have you read this series? If so, what did you think?